Filter by Category
Exercise & Outdoor Fun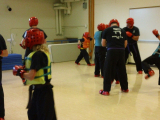 Registration Unavailable
Karate
Price not
available
with Linwood Bridges

at 5:30 pm
Enjoy yourself while learning self defense! Increase your confidence, respect, mental and physical endurance. Offered year round by Adult Education and the Bucksport Branch of Tracy's Karate, karate is a great family sport with safety and health issues a top priority. Experienced instructors. Give it a try. You can't be too old, too big, or too small. To register, contact Sensei Linwood Bridges, 8th degree black belt, 702-1691. Ask about our Discount Programs! This is an ongoing program and you may come to register at anytime.
Yoga
with Elizabeth Grossman

Nov 19, 2018 at 6 pm
Hatha style yoga with beginners more than welcome. Yoga helps reduce stress, increases flexibility and strength, and also promotes relaxation. A fun class which will increase your energy and leave you with a serene feeling. Students should wear comfortable clothing and bring a mat. 7 Sessions.